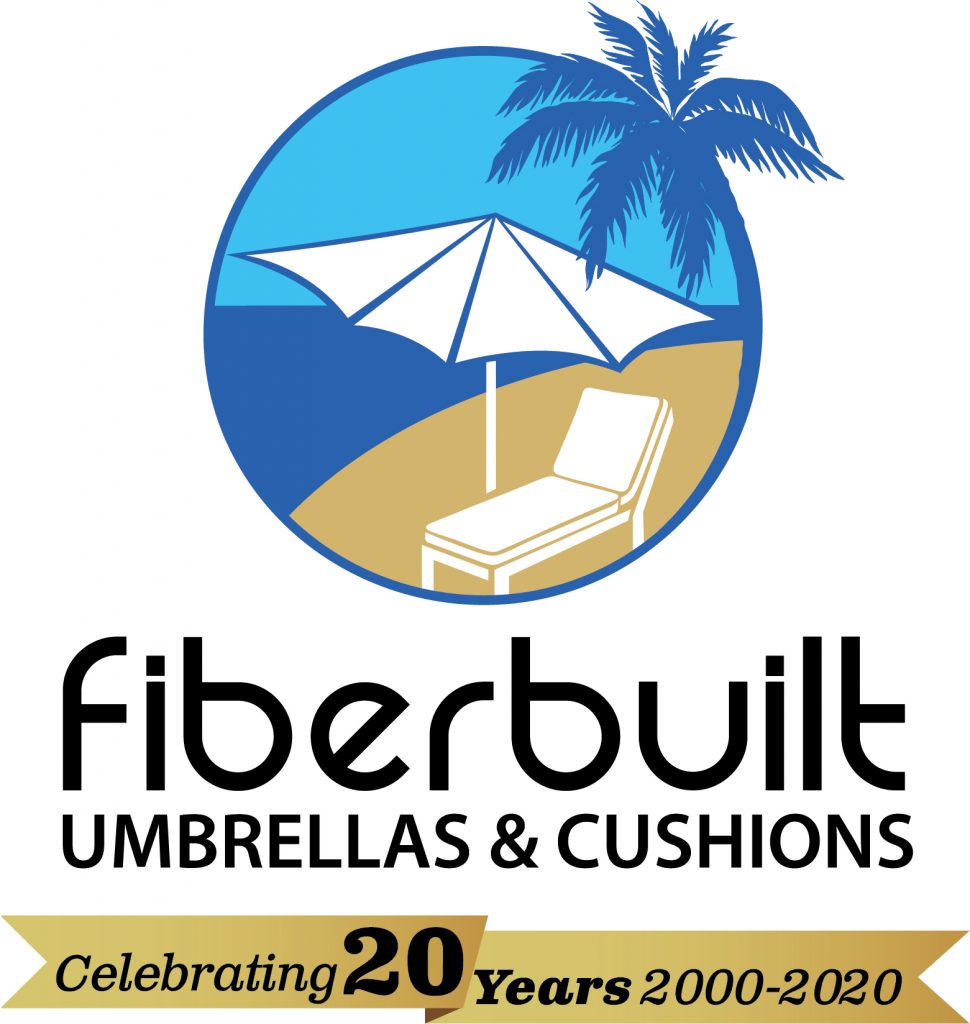 HOW OUR 20 YEARS OF EXPERIENCE BENEFITS YOU
Frequently Asked Questions
Can I purchase directly from FiberBuilt?
Yes. Our webshop is located at shop.fiberbuiltumbrellas.com. Feel free to browse around til you find the product that suites your needs. If you have any questions or would like to customize your umbrella give us a call toll-free at 866-667-8668 and our knowledgeable sales staff will be happy to assist. Our products are also available at many online sites and at specialty outdoor retail stores.
In the past I've had umbrellas 1) fly away on a windy day and 2) get damaged from falling over. Will a FiberBuilt umbrella do that?
FiberBuilt Umbrellas & Cushions is the leading manufacturer of fiberglass ribbed umbrellas. They have been wind tested to over 50 mph and are constructed to flex in high wind situations and return to their original shape unlike steel or wood ribs that can snap or warp. That said, the umbrellas should always be secured in a properly weighted base. FiberBuilt's aluminum and steel bases are made with specifically placed holes in the sleeves that align with holes in our Prestige umbrella poles and the through-bolt that comes with those bases are provided so that when inserted through both the base sleeve and umbrella pole will protect the umbrella from flying away. Similarly, our concrete bases come with a knob to tighten the pole into the base sleeve. All of these bases come with a Reducer, which is a component that effectively provides a snug fit between the umbrella pole and the inner diameter of the base sleeve.
For locations that are prone to high winds we recommend a canopy with either a double vent or an extra-large Aruba vent as this helps to disperse the wind's energy. We also recommend closing your umbrella when not in use.
What is your umbrella made of?
FiberBuilt's umbrellas are Built to Last. To ensure that, the components of our models are made with materials that are durable and fashionable so you'll be proud to have them as part of your outdoor décor for years to come.
For example, the nine models within our Prestige Collection all have one piece aluminum poles with a .125 wall thickness and are available with a powder coated or FiberTeak™ finish. Depending on the canopy size, the ribs are made with ½" or ¾" fiberglass ribs. The heavy-duty hub, molded nylon joints and end tips, and rust resistant, stainless steel hardware ensure worry-free performance. The canopies are made of marine and furniture grade solution dyed acrylic that are fade-, stain-, mold- and mildew-resistant. We offer over 400 different solid, striped or patterned fabrics, or you can provide COM, and you can customize the canopy by ordering a double vent, Aruba extra large vent, alternating fabics on venters or panels, contrasting banding or silk-screened logo.
The distinctive Edge and Bali designs within our Euro Collection (which include bases), offer other features such 360 rotating poles, that are inclined or curved, and smooth manual lifts. Their heavy trapezoid-shaped, galvanized steel base plates with locking pins. The large scale, 16 ft and 20 ft square Venice models feature a telescopic opening/closing system, double, sewn-in vent and a steel cross base with four concrete filled, molded fiberglass tiles.
The light duty Home Collection umbrellas feature flexible fiberglass ribs with molded nylon joints, hubs and end tips, two piece poles, push button tilts, and powder coated finishes. The Garden model has a valance style canopy offered in a choice of 10 vinyl coated weaves. Our Patio model has a spun acrylic canopy while the Terrace model's canopy is made of furniture grade solution dyed acrylic. These are offered in the same six color choices.
What are your canopies made of?
FiberBuilt's canopies are made of different materials depending on the style of the shade product. All of our Prestige Collection umbrellas, as well as Market and Beach umbrellas, Cabanas and Pavilions are made of Marine grade solution dyed acrylics. FiberBuilt uses only acrylic fabrics made by industry leading manufacturers, including Sunbrella and Outdura, that maintain their color and integrity while exposed to the elements year after year remaining fade-, stain-, mold- and mildew-resistant through normal wear and cleaning.
Within the Home Collection, our Garden umbrellas are available in 10 vinyl coated weaves. These have an open weave PVC coating that allows some light through. Our Patio models have a spun acrylic canopy and Terrace model canopies are made with furniture grade solution dyed acrylics. And each are available is six colors.
The Euro Collection umbrellas – Bali, Edge, and Venice – and Cantilever are available in furniture grade solution dyed acrylics, in the full range of Sunbrella colors (see grades B thru F of the Furniture Grade section of our Fabric offering).
The different grades (A, B, C, etc.) within the Marine and Furniture categories relate to the price points. Typically, though there are exceptions, solids will cost less than stripes, and stripes less than textures or patterns. The quality of the material is consistently excellent in terms of colorfastness and durability. The greatest differences between Marine and Furniture Grade acrylics are the feel and weight of the material. Marine Grade fabrics are stiffer to the touch, abrasion resistant, and heavier. Furniture Grade fabrics are softer and more flexible which is why it can be used for both canopies and coordinating cushions.
The canopies carry a five year warranty for Furniture Grade acrylics and a ten year warranty when made of Marine Grade acrylics. This covers the fabric becoming unserviceable due to of loss of color or strength from normal exposure to sunlight, mildew, and atmospheric chemicals.
Do you have any solar powered umbrellas that USB's can be plugged into?
Yes! Our Wattsun umbrella includes a solar powered charging station with 2 USB ports. This sustainable, waterproof system allows you to charge your devices while relaxing poolside or enjoying an alfresco meal. The solar panel is built in to the flat finial that fits onto the top of the umbrella to absorb the most sunlight. Features include wall outlet charging speed, eight hour battery backup and glass-free design. The frame consists of fiberglass ribs, heavy duty hub, and a 1 ½" diam, one piece aluminum pole available in seven powder coat finish colors. The canopy comes in five sizes and is available in marine or furniture grade solution dyed acrylics.
Where are your products made?
All of our Prestige Collection umbrellas, Market and Beach umbrellas, Pavilions, Cabanas as well as Fiberglass, Aluminum, Steel, Plastic and Resin bases, and all Cushions, Pillows and Poufs are made at our factory in Ft. Lauderdale, FL. Components for our other models such as Edge, Bali, Venice and Terrace come from Europe and Asia, but the canopies are sewn and the umbrellas assembled in our Ft. Lauderdale facility. Our Concrete bases and a few budget friendly products – Garden and Patio umbrellas, and some tents – are made in China.
Are bases included in the umbrella purchase?
Only our Euro Collection – Bali, Edge and Venice, include both the umbrella and the base. All other umbrellas and bases are sold separately.
What are your production lead times and shipping options?
We offer a Quick Ship Program for Garden, Patio and Terrace umbrellas as well as Plastic, Resin and Concrete Bases. These products ship within 3 to 5 days.
Production time for all other umbrellas, shade structures, bases and cushions is 3 – 4 weeks.
Orders ship either UPS Ground, FedEx Freight, or common carrier depending on weight, destination (residence or commercial/hospitality property) and size of order.
How do I order replacement parts?
We make that easy. Simply email us at [email protected] or call us at 866.667.8668. Whether you need a replacement rib, an extra through bolt or would like to change your canopy so it matches your new outdoor furniture, we're here to help. If your umbrella or base is still under warranty many parts are available at no charge and most have a quick turn around time.
Do you have a store?
FiberBuilt has an online shop (shop.fiberbuiltumbrellas.com), and we work with many brick and mortar retailers, from big box to specialty casual outdoor stores, as well as many online retailers. We don't have our own physical store. But thanks for asking.
Can I get samples?
Sure. Give us a call and we'll be happy to send you fabric swatches and finish chips to help you decide what colors work best in your outdoor room.
Which foam is best for outdoor cushions?
FiberBuilt offers four types of fill for cushions and "best" is a determination based on your situation and preference.
Standard outdoor foam is soft, comfortable and budget friendly. If your furniture is in a covered patio and your located in a dry climate. This is a good choice.
Reticulated foam has an open cell structure so it dries quickly after exposure to rain and provides long lasting comfort.
Densified fill is made of compressed fibers, has a low water retention level and is economical.
Duralastic fill is a revolutionary material that's breathable, retains its shape, and doesn't hold water. It drains quickly, is good for the environment and can be recycled.
Does FiberBuilt make replacement cushions for existing furniture by other manufacturers?
Yes. FiberBuilt manufactures custom cushions that are made to your individual specifications. You may want to update the look of your outdoor room by replacing worn, frayed or stained cushions or refresh your furnishings with a more contemporary color scheme. Our knowledgeable team is happy to work with you to determine the style you prefer, the size of each cushion, fabric color, fill and any custom details needed such as contrasting welt, zipper, ties vs Velcro closure, tufting, etc. If you need deep seating cushions for a sofa, love seat and lounge chairs; two-piece cushions for steamers and rocking chairs; pads for chaise lounges or benches, seat cushions and pillow backs for dining chairs, or decorative pillows, let us help you update your outdoor furniture.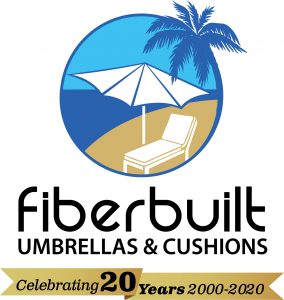 2201 W Atlantic Blvd, Pompano Beach, FL 33069, United States
Tel: 954-484-9139
Toll-free: 866-667-8668
Fax: 954-484-4654