BUILT FOR COMFORT. BUILT TO LAST.
Our Advantage
There are many design elements and component materials that make FiberBuilt's umbrellas both unique and superior. FiberBuilt's state of the art fiberglass ribs are both strong and resilient. They hold up to the harshest winds, salt air and driving rain without losing their shape or weakening.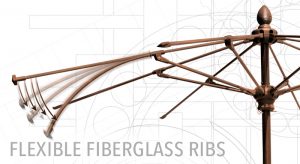 Our ribs flex without breaking and last four to five times longer than traditional steel or wood ribs which can corrode, rot, rust, splinter or warp. In addition to our innovative flexible fiberglass ribs and our robust construction methods, FiberBuilt is continuously go through the R & D testing process to improve existing products, as well as add new styles to the line that will fill new needs we discover in the marketplace.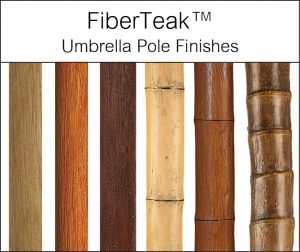 Our exclusive FiberTeak™ poles have heavy-gauge aluminum cores and are finished to simulate wood grain, bamboo and coconut palm. The accompanying hubs and finials are designed to complement the look of the pole. Our Powder coated poles feature a long lasting, color-durable and fade-resistant protective finish offered in a variety of colors. The stainless steel and rust resistant hardware in all our umbrellas have been selected to support the products durability and ease of maintenance.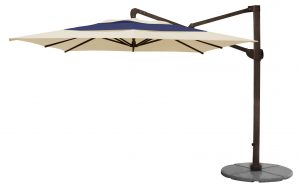 For its inherent strength and longevity, standard canopies on most of our umbrellas and cabanas are made of marine grade fabrics. Furniture grade acrylic fabrics are also available. On select models, vinyl coated weave and spun acrylic fabrics are used. We realize that in many instances our canopies need to coordinate with the rest of the furniture in the outdoor room's décor. Therefore, we offer a wide selection of fabrics including solid colors, textures, and patterns. The canopy can also be customized with secondary fabrics used as bandings, alternating vents or alternating panels. For locations that are particularly subjected to high winds, we offer our Aruba canopies which sport extra-large vents to allow for greater airflow through the vent openings and more stability of the umbrella
As added design elements, we offer such details as scalloped valances and the ability to have your property's name and logo silkscreened on to the canopy.
And lastly, because our Cushion division is located in the same factory as our umbrella production facility, you can order cushions, pillows and poufs that are made and can ship together with your umbrellas so that your outdoor furnishings coordinate beautifully.
WE WORK FOR YOU
FiberBuilt's expert sales department and knowledgeable customer service staff are led by our distinguished Management Team. Our founders aren't just the owners of the company, after 20 years they're still involved on a daily basis. They're committed, dynamic, hands on approach includes everything from operations and production to new product develop and eagerly working directly with repeat and first-time customers.