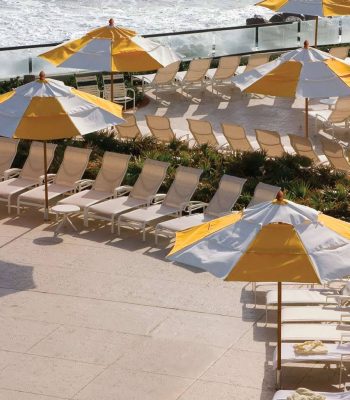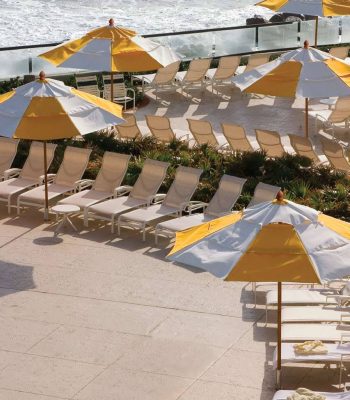 When you need shade over a bar height table, you'll surely order an umbrella with a bar height pole. But did you know that there are other times when a bar height umbrella is needed? The extra long poles are also essential when you have a counter height dining table, when you have an in-ground mount and when you're using the umbrella in-pool. The reason of course is that clearance in all of these applications is crucial so that no one gets poked by the rib ends when walking by or to avoid the umbrella being uncomfortably short when guests are seated at an in-pool bench or dining table. In these types of applications, the pole may be recessed up to 8" thereby lowering the overall surface height of the umbrella.
The standard height for bar height poles is 108". For all Prestige models (Lucaya, Riva, Oceana, Wattsun, Bridgewater, Augusta, Diamante, Bambusa and Palm), you must request a bar height pole at the time the order is placed as these one-piece poles are cut to size during the production process. There is no add-on pole extension to change the height. The length is an inherent characteristic of the pole.
For the two-piece Market umbrellas (whether crank, push up & pin, or pulley & pin models), we offer an optional extended height bottom pole. This component is 49" long rather than the standard 36" for this section. To change a regular Market umbrella to bar height, you can place an order just for a Bottom Pole Extension for Bar Height Application (part number POLE-EXTM). This can be specified at the time of the original order or later on as a separate purchase should your décor change and you find yourself in need of bar height umbrellas.
Mention this requirement to your sales representative so that we can discuss your options and make sure that the proper pole is included with your order.