While it is best to provide a template for any cushion, we will allow measurements to be provided for cushions that are square or rectangular. A template can be made from cardboard, fabric, or kraft paper such as butcher paper or brown paper bags.
The template must be the exact shape/size of the cushion that you need. It is important to remember that we will make the cushion using your template therefore it is important to make sure that your template is accurate. Please double-check the pattern on your furniture.
We require measurements including width, depth, back height, and cushion thickness for each cushion piece (seat and back). It is common for cushions to have different widths at the front and back as well as seat cushions to have different widths than back cushions. Keep in mind that cushions break down over time and can stretch out or flatten. If this has occurred, we will require a template to help ensure your cushions fit your furniture. Please refer to Creating a cushion template for instructions.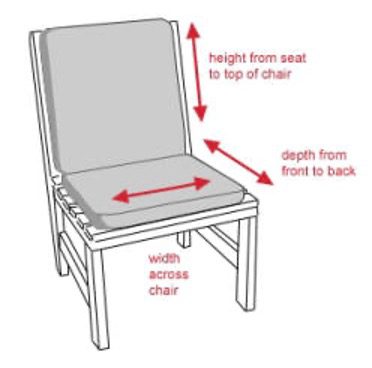 Measuring existing cushions:
Using a good measuring tape, measure the width at the front, from end to end. If there is a cut-out for armrests, be sure to measure this separately.
Measure the width at the back.
Measure the depth of the chair from front to back.
Measure the thickness of the cushion. Place a lightweight flat object such as a piece of paper on top of the cushion to the front edge and let the paper slightly extend beyond the edge but keep the paper level. Measure the distance from the flat surface to the edge of the paper.
If there is a back cushion, repeat the above steps.
If there are any attachments such as ties, Velcro, etc. be sure to make note of this and measure the length as well as the distance from the edge of the cushion.
Photos are highly recommended as well as drawings. If at all possible, please include both with your measurements.
Remember: Custom orders are made from the information that you give us and cannot be returned. Please take the time to get every detail. The more information you give us, the better job we can do for you.