For best operation of your umbrella and for the warranty to apply, all umbrellas must be secured in properly weighted bases.  You'll find that the Base Section of our website and our catalog provide information on the recommended base size/weight depending on the umbrella's size and whether it's used in-table (T) or freestanding (F).
Bases are available in many materials, including plastic, resin, concrete, steel, aluminum and fiberglass, and a variety of sizes and finish colors.  In addition to the style that fits your outdoor space, you need to choose the right base for the umbrella with regard to how it will be used.
Here are a few factors to consider:
·   The Size of your umbrella canopy
This is one of the most determinative factors for what the weight of your base should be.  The larger the canopy size the heavier the base should be and the larger the footprint of the base plate to provide added stability.  An underweight base will result in a top-heavy umbrella where a wind gust could affect its balance and topple over. 
·   Will the umbrella be used in-table or freestanding?
Because the table itself acts as additional support for umbrellas used in-table, a lighter base is acceptable.  For freestanding umbrellas, the base needs to be heavier to provide adequate support whether in a backyard or a more high-traffic hospitality environment.
·   What kinds of winds does your location experience – Not windy, light to moderate, moderate to heavy, constant ocean breeze?
If you answered moderate to heavy, constant breeze or heavy gusts, not only should you have a double vented or Aruba canopy for improved wind management, but you'll want to use a base with a through bolt so that you can secure the umbrella to the base.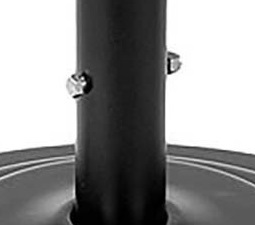 Some base sleeves, such as our Concrete models, have a knob to tighten the umbrella pole to eliminate wobbling, but to truly fasten the pole in the base the two components should be locked together.  A through bolt is furnished with FiberBuilt's Aluminum and Steel bases.  They are made with specifically placed holes in the sleeves for those bolts.  The holes in the sleeve align with holes in our Prestige umbrella poles.  Once secured in a properly weighted base your umbrella is protected from flying away or falling over..
Now that you know what considerations, let's help you decide which base is the right for you:
Our 55 lb. Concrete base is considered a light weight base and it's appropriate for 7 1/2', 8' and 9' canopies and should be used in-table as the table provides additional stability against the force of wind gusts.   These bases have a 19" diameter footprint and a curved silhouette so they fit will under tables. 
For 11' diam or 6' square umbrellas used in-table, we suggest our 110 lb Concrete base.  The additional weight and 23" diam footprint provide the right support for these size umbrellas.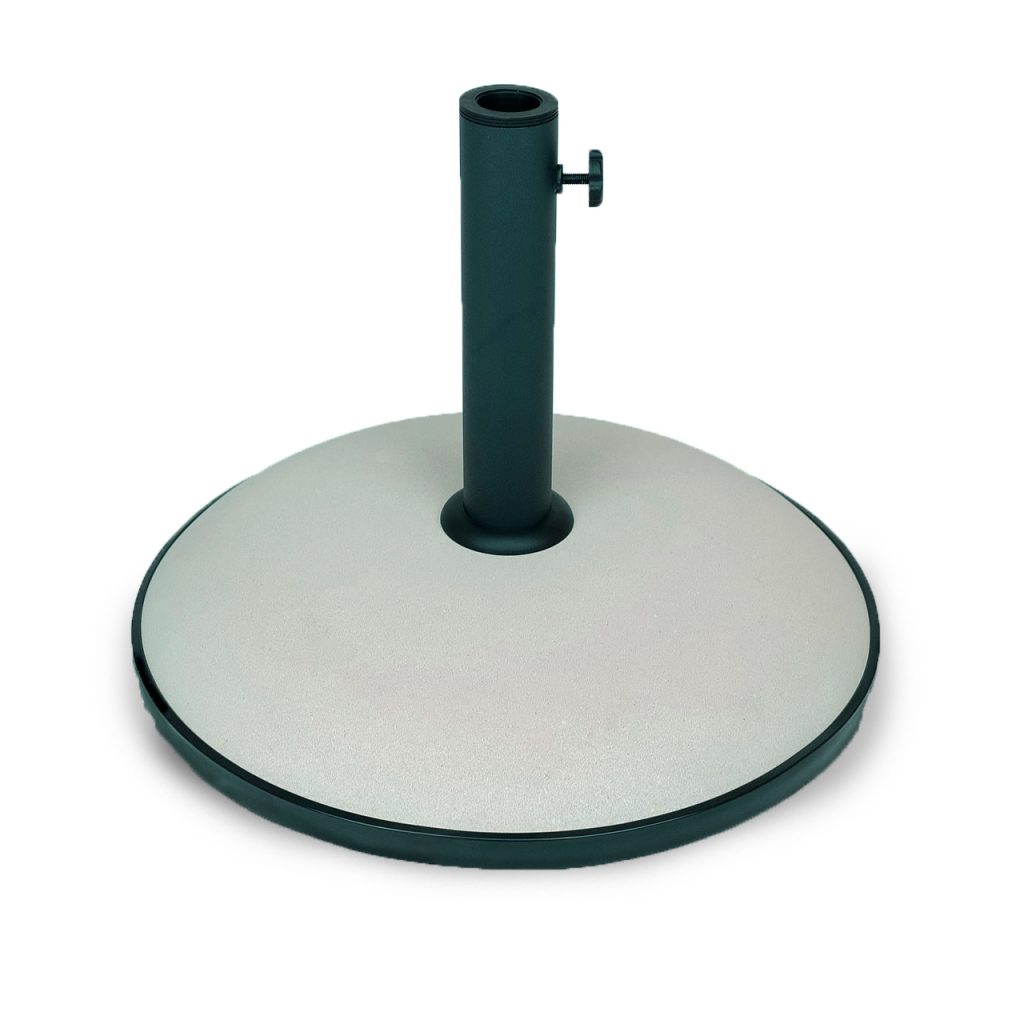 CB19 55 lb Concrete Base.
CB23 110 lb Concrete Base
FiberBuilt's Aluminum, Steel and Fiberglass bases have been designed to provide the weight needed to support freestanding larger umbrellas, from 9 ft to 13 ft octagon and up to 10 ft square.  These bases weigh from 85 to 200 lbs depending on the model.  And in addition to the substantial weight, they have a larger size footprint that insures stable functioning. 
The Steel bases are available in 85, 130 and 200 lb sizes, have base plates measuring either 24" or 30" and a sleeve that's 18" tall. Because of its flat profile, this base can be used free standing or in-table without interfering with the table's base or legs.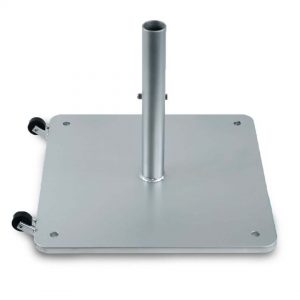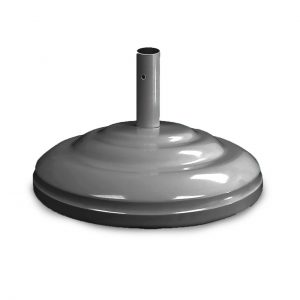 The concrete filled Aluminum bases come in 115 and 160 lb models, measure 23" in diameter, and 12" or 18" to top of sleeve depending on if they're stationary or have wheels. These bases will support umbrellas from 8' to 13' diameter.  Note that because the Aluminum and Fiberglass bases have a domed shape, they may not be the right choice for use under tables.  Determine your clearance prior to ordering for in-table use.
The Fiberglass bases weigh 50 lbs unfilled (for in-table use), and can be filled to either 100 or 150 lbs for free standing use.  These wheeled bases measure 27" in diameter and 18" to top of sleeve.  When filled to 150 lbs they can be used with umbrellas up to 11' diameter or 7 ½' square.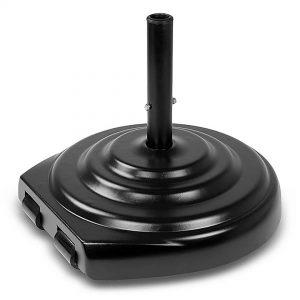 On a side note, if your umbrella will be moved around your deck, pool or dining area, you might consider ordering a base with wheels to make relocating such heavy items easier-going.  All bases with wheels have longer sleeves to provide greater leverage so you can smoothly and easily reposition the umbrella.