Even before Covid inspired the race to find, create or repurpose outdoor spaces for customers to gather safely, restaurateurs, hoteliers, architects and designers had already begun the trend to use rooftops for unexpected dining, bar and lounge spaces. The best example of this is the biophilic architectural and design movement, with its focus on increasing human connectivity to nature within built environments, including workplaces and universities. The goal is to restore our spiritual tranquility, reduce stress, and to produce a positive impact on our psychological well-being and productivity.
The deep and fundamental human need to be close to nature while remaining in a man-made structure is made easier by providing a space to enjoy and recharge that's actually also outdoors. Rooftop restaurants, bars and other gathering spaces provide an ambiance with natural airflow, views of cloudless skies and star-filled heavens, distant mountains and nearby beaches.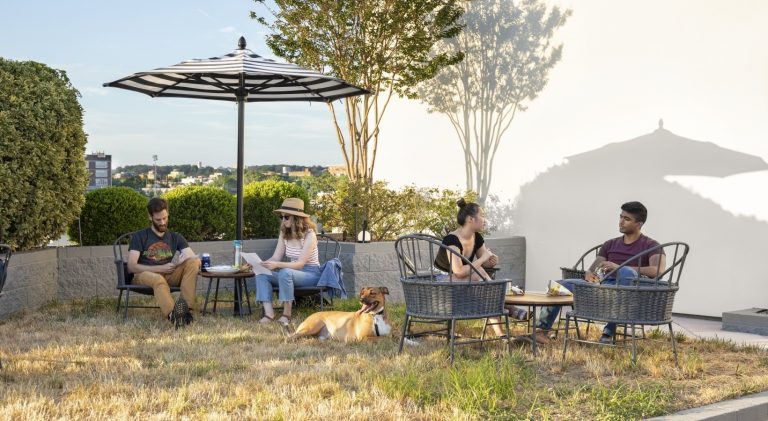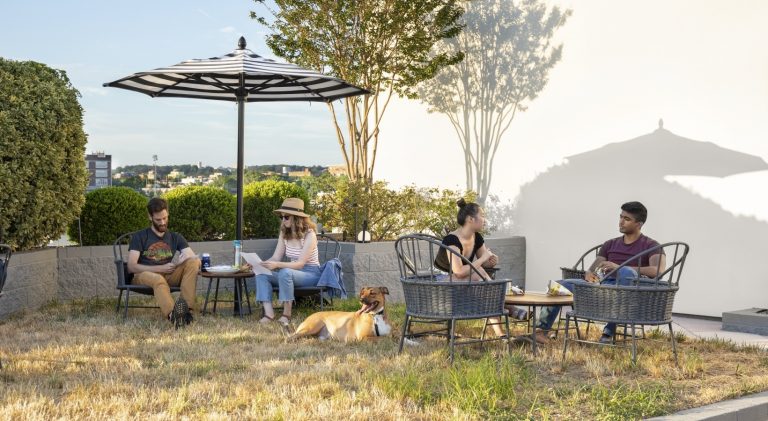 For daytime comfort at rooftop settings many designs include umbrellas to provide shade over dining tables, casual furniture groupings, and for the chaises by pools. These types of applications however have their own special design challenges. Rooftop locations, no matter high many stories up, are prone to gusty wind conditions. The wind loads are very different than at ground level and neighboring buildings also impact wind speed and direction. The larger the umbrella the more problematic this can be. Damage is caused to umbrellas when the wind isn't exhausted through the canopy. Consistent strong winds cause added strain and can reduce the umbrella's life span.
Therefore, FiberBuilt recommends our 9 ft Oceana and Diamante models with canopies that have a double vent or our extra-large Aruba vent; these canopies bellow to allow gusting winds to escape. These center post umbrellas feature a 2 ½" diameter pole, ¾" fiberglass ribs and a heavy duty hub. Though both Oceana and Diamante are available in larger sizes, the 9 ft size is best for high elevation locations.
The umbrellas must be secured into properly weighted bases, such as our 200 lb Steel bases, by use of the supplied through bolt.