Selecting the right umbrella to use in your backyard pool or patio dining area can be challenging. There are several factors to take into consideration.  With 20 years of experience manufacturing high-quality umbrellas for use in both commercial and residential environments, FiberBuilt Umbrellas & Cushions are happy to provide you with a short but helpful guide to the topics to take into account as you select the right umbrella for your property.
What size umbrella will fit your space and needs?
For pool and patio use, umbrellas come in a variety of sizes and shapes from 7 1/2 ft to 13 ft diameter and 6 ft to 10 ft square.  If you're covering a small dining table (30" or 36" diameter) a 7 1/2 or 8 ft umbrella may work well, but if the table is larger, the canopy's coverage area should be too.
To provide shade to two chaise lounges you may prefer a 9 ft umbrella positioned between them. For the pool area at an apartment complex or condominium, a 13 ft umbrella will provide shade for 4 chaises.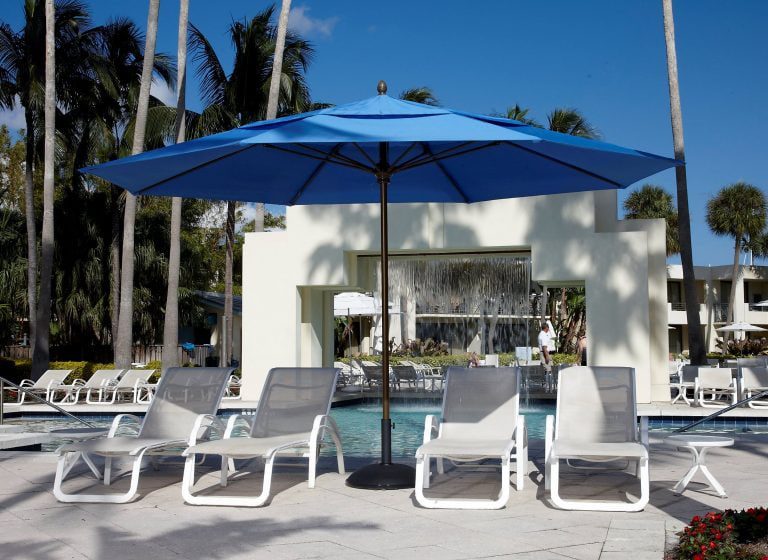 Choose your lift mechanism wisely.
There are 3 kinds of lifts to raise your umbrella canopy – Crank, Push Up & Pin, and Pulley & Pin.  Each has its benefits, but not all options are available on all umbrella styles or sizes.  For in-table use, the crank option may work best as it's easiest to reach and doesn't require the user to insert the pin into the pole to keep the canopy in position.  The Pulley & Pin lift system works well on large umbrellas as the pulley helps to raise the weight of the canopy and hold it in place while the pin is inserted.  For poolside application, the Push Up & Pin works well as the hub slides up the pole and the pin is inserted.  There's no pulley rope to govern so it's safer around small children.
Will the umbrella be used in a high wind location?
If not, a standard, single vent canopy is a good choice.  FiberBuilt is the leading manufacturer of fiberglass ribbed umbrellas which flex rather than snap in windy environments.  Our umbrellas have been wind tested to over 50 mph.  But if your property is prone to high winds or significant gusts, we recommend a double vent canopy or an Aruba canopy which has an extra-large top vent.  Both of these options offer improved wind management which allows the air to escape and prevents the umbrella from blowing over.
Remember, when not in use or when storms approach, close your umbrella and use the sewn-in storage ties.
Is the umbrella being used freestanding or in-table?
While this isn't necessarily a factor in the kind of umbrella you choose, it's very important when considering the weight of the base.
For in-table use, measure the hole in the table, then make sure that the diameter of the umbrella pole is slightly smaller than that hole.  If the hole and the pole are the same size, the pole won't fit through the opening.  If the hole is much larger than the umbrella pole, there's a chance that the pole will wobble within that space.  The table itself is used to support the umbrella, so a snug fit is best.  In many cases, because of the design or shape of the table legs or base, the room beneath the table doesn't allow for as large an umbrella base as would be recommended if the umbrella is freestanding. So the fit of the pole through the hole in the table and the size of the canopy are important factors in the umbrella selection.
Color selection
What pole finish and canopy fabric work in your outdoor space?  All the elements in your outdoor room should coordinate.  Select a pole finish color that harmonizes with the finishes of your furniture and furnishings.
FiberBuilt offers a variety of powder coated finish colors.  Our Prestige Collection also includes our proprietary FiberTeak™ line of simulated wood finishes in Teak, Chestnut and Aged Teak, as well as simulated Bamboo and Coconut Palm.  If you'd prefer the look of wood without any of the disadvantages of the natural material, such as checking, warping and splitting, consider one of our FiberTeak™ models.
FiberBuilt offers over 400 marine and furniture grade solution dyed acrylic fabrics for your umbrella's canopy.  The canopy can be used to complement the fabric on your furniture or to be a dramatic design element that offers a pop of color.
Be creative.  Have fun.  Once you've chosen the size, style and purpose for your umbrella, make it your own by choosing the color scheme that works best in your outdoor room. 
Is Made in America important to you when deciding who to purchase from?
If the answer is yes, you should know that FiberBuilt's factory is located in Ft. Lauderdale, FL from where we proudly manufacture our umbrellas, bases and cushions.
FiberBuilt makes the decision easy for you – we manufacture umbrellas that provide years of problem-free service.  So, with just minimal maintenance, you won't need to purchase a replacement every year.  Your FiberBuilt umbrella will be a beautiful part of your décor year after year.  When you choose a FiberBuilt umbrella, you choose comfort, durability and style.